有报告"问荆"(植物)能预防和治疗动脉硬化及高血压病。并能定其有效成分为硅酸。特别是它对已经硬化的血管还能使其恢复弹性。
"丰牌问荆茶"是由精选江苏太湖优质绿茶加配"问荆"用现代高新科技精细配制而成。生产过程中无化学反应,不含任何化合物,全系天然物质。本茶作为一种实用的保健材料,具有清热凉血,利尿,软化血管的作用。经无锡市200多列临床试验,证明问荆茶有良好的降高胆固醇及高三酸甘油脂的作用,可以防治心血管疾病,而且无任何禁忌与副作用。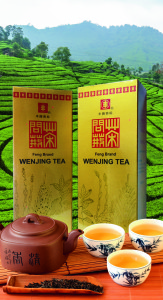 It is reported that "Wenjing", a Chinese plant, can prevent and cure arteriosclerosis and high blood pressure. It is also been confirmed that its effective ingredient is the silicic acid that is especially efficacious in resuming the elasticity of the blood vessels that has been sclerosised.
Feng Brand WENJING TEA is made from high quality green tea grown near Lake Tai of Wuxi Province, China; mixed with Wenjing (Equisetum Arvense), which does not contain any chemical compound.
As it has antipyretic and diuretic effects and also dispels endogenous heat from blood and softens blood vessels, it is an ideal health drink for the young and old. After carrying out over 200 clinical tests in Wuxi medical institutes, it was testified that it abates high-cholesterol and high-triglyceride, and that is good for preventing and treating cardiovascular diseases with no side effects.